Census Data / Demographics
Click HERE to view the latest census data and community demographics.

Citizen Surveys
The City of Vestavia Hills has partnered with ETC Institute to conduct Vestavia Hills Citizen Surveys. In an ongoing effort to further understand our residents' perceptions of the services we provide, this survey is mailed to randomly selected citizens every three years. Resident opinions are an important component of the City's long-range planning and investment decisions.
Community & Retail Corridor Plans
Cahaba Heights
Patchwork Farms
U.S. 31 Corridor
For nearly two years, professionals from Birmingham's Regional Planning Commission (RPC) have worked along with individuals, businesses and developers, studying Vestavia Hills' U.S. 31 Corridor. Their goal was to create a plan for a more economically and socially viable and aesthetically pleasing corridor. Now, this long-awaited, highly anticipated U.S. 31 Corridor Redevelopment Plan is released.
Bold in scope, and transformational in design, the RPC's U.S. 31 Corridor Redevelopment Plan paints a dramatically new vision for our City's principal transportation and business arterial. Developed upon three underlying principles – form based zoning, a greenway and a boulevard, the Plan has the potential to be the catalyst for the City's next generation of redevelopment activities along U.S. 31.
Click here to view the complete U.S. 31 Redevelopment Plan. We encourage you to learn more about the plan and invite you to be a part of this exciting transformation. For more information call Jeff Downes at 205.978.0195 or Rebecca Leavings at 205.978.0100.
School System
Learning Without Limits Starts Here. Since its founding in 1970, Vestavia Hills School System has kept its focus on equipping its scholars to meet the challenges of the future. Highly-participative parents and benchmarked educational attainment levels encourage every student's college aspirations after graduation; approximately 90% attend 4-year colleges, 8% attend 2-year colleges and 2% enter the military or workforce.
Vestavia Hills School System scores consistently strong on academic performance measures. The average ACT score for VHHS students is 25.3. Average means SAT scores include: Reading 639, Math 648, and Writing 616. In a typical year, 55% of the graduating class is offered college scholarships worth more than $18.5 million, and graduating classes often have 18 to 25 students recognized as National Merit Semi-Finalists.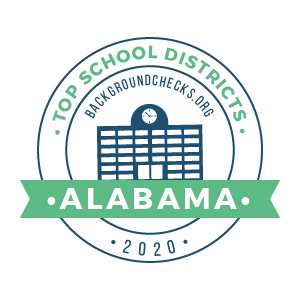 Vestavia Hills City Schools were recently voted #1 in the state by backgroundchecks.org!
If you are new here, we are excited that you have chosen to make our city your home. As one of Alabama's most educated communities, we pride ourselves on the quality of our schools, teachers and educational experiences. The school system's mission is to ensure that each student learns without limits by pursuing knowledge and igniting curiosity about the world.
Quick Facts
Established: 1970
2019-2020 Enrollment: 7,125
Total Faculty & Staff: 877
Elementary Schools: 5
Middle Schools: 2
High Schools: 1
Graduation Rate: >95%
District-Wide Budget: $110 million
Per-Pupil Expenditure: $11,323
Superintendent: Dr. Todd Freeman
Ready to learn with us? Click here to get started.
Healthcare Community
Healthcare and social assistance fields are booming in metropolitan Birmingham, employing approximately 58,900 persons. The University of Alabama at Birmingham (UAB) Health System employs 21,550 and is Alabama's largest employer. Encompassing 83 city blocks, UAB is the fourth largest academic medical center in the United States. UAB is nationally ranked among Top-20 in federal research funding and key areas of health sciences receive more than $450 million annually in research dollars. UAB also serves as a hub for international research from off-site facilities around the world. Other notable health care facilities in the Birmingham region include: the Benjamin Russell Hospital for Children (which ranks among the top ten busiest pediatric medical centers in the nation) and the Lakeshore Foundation, one of the nation's premiere fitness, recreation, and education facilities for persons with physically disabling conditions. Lakeshore Foundation has served as a host to Special Olympic events and is the first official U.S. Olympic training site equipped for both Olympic and Paralympic athletes. Because of its location and excellent transportation system, Vestavia Hills is the home of several medical specialist offices which feed into these excellent facilities.
Market Street Study
Parks & Recreation
In recognition of the powerful role parks and recreation play in the quality of life and character of our community, the City has invested greatly to enhance our facilities and programs, which already enjoy strong utilization and participation. See below for links to reports towards this effort. Vestavia Hills Parks and Recreation Department has several facets to provide recreational fun and exercise outlets for citizens of all ages. Parks and Recreation has several sports leagues for children, ranging from football, basketball, soccer, softball, and baseball to cheerleading, tennis, swim team, and lacrosse. The department also offers art classes, dance lessons, baton lessons, gymnastics, summer camps, and etiquette classes outside of its organized sports leagues. The Vestavia Hills Civic Center presents opportunities to strengthen the body and mind through its many exercise, art, and language classes of adults as well, with opportunities to participate in several exercise classes, dance lessons, Zumba, and art classes. Seniors have a large offering of senior exercise programs, Tai Chi, dance, cooking demonstrations, art classes, socials, group travel, and game playing sessions such as bridge and scrabble available through three senior centers throughout the City.
The City boasts several parks that accent its natural beauty and scenic views, thus providing lovely greenspaces for its citizens with scenic walking trails, playgounds, picnic tables and the addition of dog parks for pet owners. The City also has four state-of-the-art sport complexes, including one park that has 11-acres of lighted synthetic turf surface, and another park that has 5 baseball fields to host local and regional sports events. A new City pool is under construction. In addition to serving residents, the new pool will serve as the training location for the highly competitive Birmingham Swim League.
Public Safety
Safety as an asset cannot be overstated for the City of Vestavia Hills. Residents and visitors feel a strong sense of security in our communities and business districts, and low crime rate is a factor for many who choose to locate here. Favorable insurance ratings here are a reflection of the high quality of our Fire Department, and residential and commercial property owners can feel confident in the commitment of our Building Safety department to the "Safety" in its title.
The Vestavia Hills Fire Department (VHFD) and Building Safety Department collaborate and share administration to closely align each department's goals to smooth the way for those who wish to build within our community. VHFD is an all-hazards provider which responds to fires, medical emergencies, hazardous materials incidents, technical rescues, and calls for public services. The department operates from five stations located throughout the City so that assistance can be rendered quickly by the highly skilled and well-equipped staff. The department is also deeply involved with building safety and maintains a safe community through the plans review process for new construction and remodeling, and by regularly inspecting existing structures.
The City of Vestavia Hills' Police Department (VHPD) is quickly becoming recognized as one of the premier law enforcement agencies in the region. Members of the department are highly trained professionals, most with Bachelor's degrees or higher, that focus their proactive efforts on ensuring that Vestavia Hills continues to enjoy a traditionally low crime rate, prompt service, and dedication by its members to all citizens that make Vestavia Hills "A Life Above." VHPD offers a variety of unique services to the community such as special events, crime prevention, and educational programs, and maintains a close network with elected officials, business leaders and citizens in an attempt to achieve partnerships that promote transparency and common goals. View recent annual crime statistics.
Transportation
Vestavia Hills is fortunate to be served by one of the most robust networks of any city in the southeastern United States. The City is ringed by Interstates 65, 459, 20, and 59; as well as U.S. Highways 31 and 280. In addition, Vestavia Hills is just minutes away from a major railhead, an Amtrak station and the Birmingham-Shuttlesworth International Airport.
In addition to accessibility, Vestavia Hills offers several locations with high traffic counts helpful to businesses. View traffic volumes.
Pro-Business Government
On November 5, 2012, the City of Vestavia Hills became one of a very few communities in Alabama with a Council-Manager form of government. The City Manager is appointed by the City Council and serves as the chief executive officer of the municipal government. The City Council members are elected in a city-wide election every four years; and the Mayor oversees the running of City Council meetings. All members of the city administration understand the significance of business to a thriving community with a strong educational system, large parks and recreation department, and economic development program.
In addition, the City understands the importance of public/private partnerships. Such partnerships have been key as the City has pursued the highest and best use of available parcels. Since initiating the move for major redevelopment beginning with the US-31 corridor, the City has recognized the importance of and is working on strategic initiatives in its other business corridors, notably Patchwork Farms, Cahaba Heights, Liberty Park and Altadena Valley. The City seeks through these strategies to strengthen economic development, improve commercial aesthetics, and provide walkable shopping and greenways to create true quality of place and an environment where businesses can thrive.